Arbor Element Black Rocker
Arbor
Arbor Element Black Rocker
Details
There's something about a black snowboard that just makes it look faster, meaner, and ready to send it. The Arbor Element Black Rocker Snowboard is the gentleman's choice for a refined all-terrain daily driver. Ride this down the groomers, get in laps at the park, and milk that season pass for all its worth. The Arbor Element Black Rocker Snowboard is a superb all-mountain quiver killer that is happy to do a little bit of everything for the tasteful renaissance rider that chooses it.
The System Rocker – The Rocker System combines a progressive parabolic arc rocker profile with a tri-radial Grip Tech sidecut design. Enjoy more natural and cleaner tracking turns with a high-performance surfy ride.

Shape
Grip-Tech – A tri-radial sidecut design that is not "blended." Natural shaping intersections, that in the past were eliminated, have been transformed into heel and toe contact points that provide a direct, more ergonomic way to grip the snow when additional control is needed.

Knucklehead Tip – Peak to parking lot with extra punch for powder.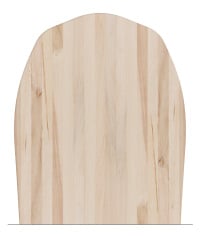 Core
FSC® Certified Highland II Core – A newly developed screening process has allowed Arbor to hand select the very lightest and highest quality paulownia from its sourcing partners. The result is a lighter, more responsive version of the FSC Certified Highland Core known for highly reliable return and long-lasting durability.
Laminates
Mixed Glassing – A triax over biax lay-up that's best for versatility: pow, backcountry, groomers, jumps and more.
Sidewalls
360° Rails – A 360°, fully wrapped sidewall that eliminates the need for tip fill, while effectively tying the whole snowboard together. A technology that delivers incredibly tight tolerances for improved board life and durability.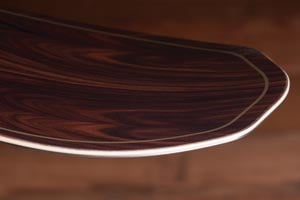 Recycled ABS – When a plastic alternative is unavailable, as in the case of ABS sidewalls, Arbor does its best to opt for a recycled material to improve the sustainability of its products.
Base
Extruded Base – A tough, user-friendly extruded base that delivers lighter-weight performance.
Edges
Recycled Steel Edges – Arbor uses the most sustainable components possible. All edges are made from recycled steel. Highly durable, recycled steel edges embody both quality and sustainability.
Topsheet
Hand Dyed Ash Powerply – The Powerply works like an added layer of fiberglass. During construction, the natural wood or bamboo fibers are turned into a composite layer inside the board.
Additional Features
Entropy Bio Resin – Starting with the 2020 line, Arbor is proud to announce that all Powerplys and R.A.P. Topless Tech veneers will be made with Entropy Bio-Resin, a replacement for traditional petroleum based resin that doesn't affect performance or usability. The ingredients that go into Entropy Bio-Resin are sourced as co-products or waste products of other industrial processes and are manufactured employing green chemistry techniques that reduce the carbon footprint of the material by up to 40% when compared to its petroleum based equivalent.

Factory Tuned – Arbor detunes the tip and tail contact points on all of its snowboards for a catch-free ride before they leave the factory.

Wend Natural Wax – All Arbor snowboards hit the shop floor ready to ride with Wend Natural Wax.
Terrain:All-MountainMore

Ability Level:Intermediate-AdvancedMore

Rocker Type:RockerMore

Shape:Directional Twin
Flex Rating:MediumMore

Binding Mount Pattern:2x4
Core/Laminates:Wood
Warranty:3 YearsMore
| | | | | | | | | |
| --- | --- | --- | --- | --- | --- | --- | --- | --- |
| Size (cm) | 153 | 155 | 157 | 158MW | 159 | 161 | 162MW | 166MW |
| Effective Edge (mm) | 1144 | 1162 | 1180 | 1210 | 1198 | 1216 | 1246 | 1282 |
| Tip Width (mm) | 290 | 291.8 | 293.5 | 305.2 | 295.3 | 297.3 | 308.7 | 312.2 |
| Waist Width (mm) | 249.5 | 250.5 | 251.5 | 260.5 | 252.5 | 253.5 | 262.5 | 264.5 |
| Tail Width (mm) | 290 | 291.8 | 293.5 | 305.2 | 295.3 | 297.3 | 308.7 | 312.2 |
| Sidecut Radius (m) | 8.55 ?/ 7.65 ?/ 8.55 | 8.65 ?/ 7.75 ?/ 8.65 | 8.75 ?/ 7.85 ?/ 8.75 | 8.65 ?/ 7.75 ?/ 8.65 | 8.85 ?/ 7.95 ?/ 8.85 | 8.9 ?/ 8 ?/ 8.9 | 8.85 ?/ 7.95 ?/ 8.85 | 9.05 ?/ 8.15 ?/ 9.05 |
| Stance Setback (mm) | 0 | 0 | 0 | 0 | 0 | 0 | 0 | 0 |
| Rider Weight (lbs) | 114 - 194 | 120 - 200 | 122 - 202 | 124 - 204 | 130 - 210 | 138 - 218 | 136 - 216 | 138 - 228?+ |
| Width | Regular | Regular | Regular | Mid-Wide | Regular | Regular | Mid-Wide | Mid-Wide |
Part Numbers
| Option | MPN | Store SKU |
| --- | --- | --- |
| 166 MW | 13576466309 | 210000018510 |
Reviews